History of UA Local 72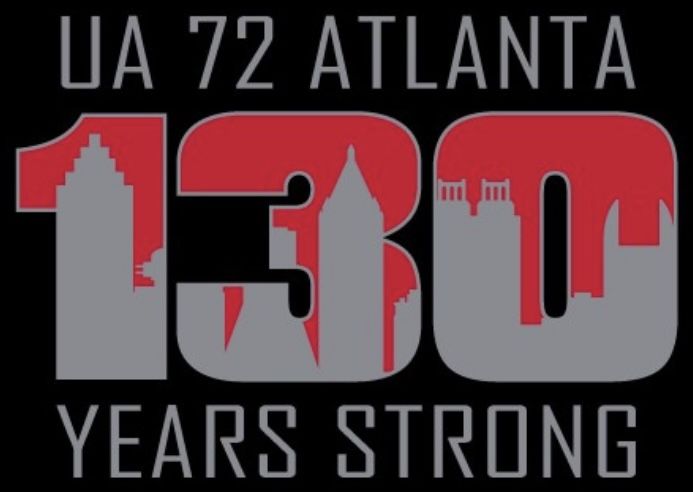 Plumbers, Pipefitters and HVACR Service Technicians received its charter from the United Association of Journeyman and Apprentices of the Plumbing and Pipefitting Industry of United States and Canada in 1891 and is very proud of our one hundred and twenty plus year history.
At the turn of the nineteenth century Atlanta Georgia was quickly becoming the corporate and industrial hub of the southeastern United States and UA Local Union was entrenched in providing skilled and qualified plumbers and steamfitters for this bustling and growing area. Throughout the nineteen hundreds as the boom in Atlanta spread outward into the rural areas and the Industrial Revolution migrated south Local Union 72 grew in membership and capabilities. With the new industrial and corporate growth came more citizens which in turn required more schools, healthcare facilities and infrastructure. Local Union 72 was quick to adapt and train our members to the new technologies and installation procedures required to remain competitive and productive in a rapidly changing construction market.
As the twenty first century dawned Atlanta and the state of Georgia had become not only a regional power but a national and international force as well in the fields of technology, education, healthcare and Industry. As with anything else as Atlanta and Georgia grew and aged so did the infrastructure; plumbing systems heating and air conditioning systems, manufacturing plants and hospitals began to show the signs of use and age. UA Local Union 72 foresaw this transformation and was prepared by training an elite army of HVACR and Plumbing service technicians to keep customers online and running and to provide preventative maintenance for worry free operations. Throughout all of the change and growth in our state UA Local Union 72 has remained committed to continue to provide the best trained, safest and most highly skilled workers in our trade.
Are we proud of our heritage at UA Local Union 72? Absolutely! However, not near as excited as we are about our future as we continue to grow and thrive here in the jewel of the south.